A MARKET WITH NO EQUIVALENT
STRONG DEMOGRAPHIC AND ECONOMIC FUNDAMENTALS
AFFORDABLE, HIGH-PERFORMING AND SECURE ASSETS
The face of Florida has changed over the past 15 years with a young, dynamic population that has come to settle here permanently, taking advantage of the new infrastructures and activity centers. In addition, affordable housing that meets the purchasing power of the American working and middle class is increasingly rare, due to stagnant incomes and rapidly rising construction costs. By strategically positioning ourselves at the heart of this new revolution and by exploiting carefully selected niche markets, we enable our investors to take advantage of highly profitable opportunities that offer strong appreciation prospects and security.
REAL ESTATE IS BUOYANT IN THE USA WITH STRONG GROWTH RATES
"With a very favorable euro/dollar exchange rate, historically low interest rates and exceptional timing at the end of the cycle, U.S. real estate remains more than ever a source of opportunity for international investors. Florida, a true engine of the U.S. economy, is positioning itself as the way forward, offering the strongest fundamentals of growth and security to its investors."
Eric Amsallem, co-founder of Florida Invest
Investing in the heart of the world's largest economy and its opportunities
Ideal investment timing (fourth quarter 2020 and 2021), which opens up historic opportunities in the U.S. real estate market:
The economic crisis linked to COVID-19 is pushing more and more owners to sell at the same time and short-lived assets are being liquidated en masse
Significant discounts on acquisitions are now possible, considerably increasing the profitability of operations
Historically low interest rates allow an interesting leverage effect
A very favorable Euro/Dollar exchange rate for European investors
Ideal timing at the end of the real estate cycle after 10 years of continuous growth expected from the last quarter of 2020
THE ADVANTAGES OF THE USA REAL ESTATE MARKET
Affordable market: US real estate prices are on average undervalued by nearly 10% compared to household income, and many cities have not reached their pre-crisis prices. In comparison, France is one of the countries where real estate is the most overvalued according to the IMF. 
High rental yields: tight rental demand, difficult access to property for the population and a shortage of affordable housing offer investors a very good rent/price ratio.
A liquid market: a real estate sale takes place between 15 and 45 days, and real estate, especially rental investment products, sell in less than three months.
Very low acquisition costs: the equivalent of notary fees is generally less than 2% of the purchase price, which allows you to benefit from a capital gain much faster than in France.
Extremely limited rental risk: eviction procedures generally take less than two months, the credit score system and the fact that a defaulting tenant has a lot of difficulty finding a place to live after having defaulted on his or her lease are very much in the landlords' favor.
Florida in the midst of economic upheaval
A forward-looking region that is undergoing a true economic transformation, at the heart of a unique ecosystem, Florida's economic and demographic reality is quite different from its image in the early 2000s. A true economic, commercial and financial crossroads between Latin America and North America, its unique geographic location and cultural diversity attract businesses, workers and innovations from around the world.
Fourth GDP and third demographic of the USA, Florida has become in a few years the first destination of national capital
Since 2005, more than 2.5 million people have moved to Florida (number one destination in terms of moves ahead of Texas)
Miami is the eighth largest city in the U.S. in 2020 in terms of venture capital activity, with $1.3 billion collected by startups in the city
The U.S. aviation and aerospace corridor is based in Florida, with companies like Boeing, SpaceX and many others
Capital from Latin America is flowing into the region. The older generation prefers to invest in real estate, while the younger generation is trying its luck in technology and start-ups
Affordable real estate prices compared to the quality of the professional pool that attracts brains and workers from around the world. Cost of living is significantly lower than in cities such as Boston, San Francisco or New York
Extremely advantageous taxation with no income tax and one of the most interesting "pro-business" legislations in the USA
Southeast Florida and its real estate "midlle market
Since the 2008 crisis, an economic boom and the development of numerous business centers have attracted the middle and working classes to the region. These dynamic populations have clustered around the business centers, having a lasting impact on Florida's economy, especially the Southeast quarter ("tri-county").
Following the COVID-19 crisis of 2020, the American population is looking for a better quality of life, a better purchasing power and real estate investors for more favorable regulations. It is in this context that Florida has experienced an unprecedented demographic and financial boom, reinforcing its many assets.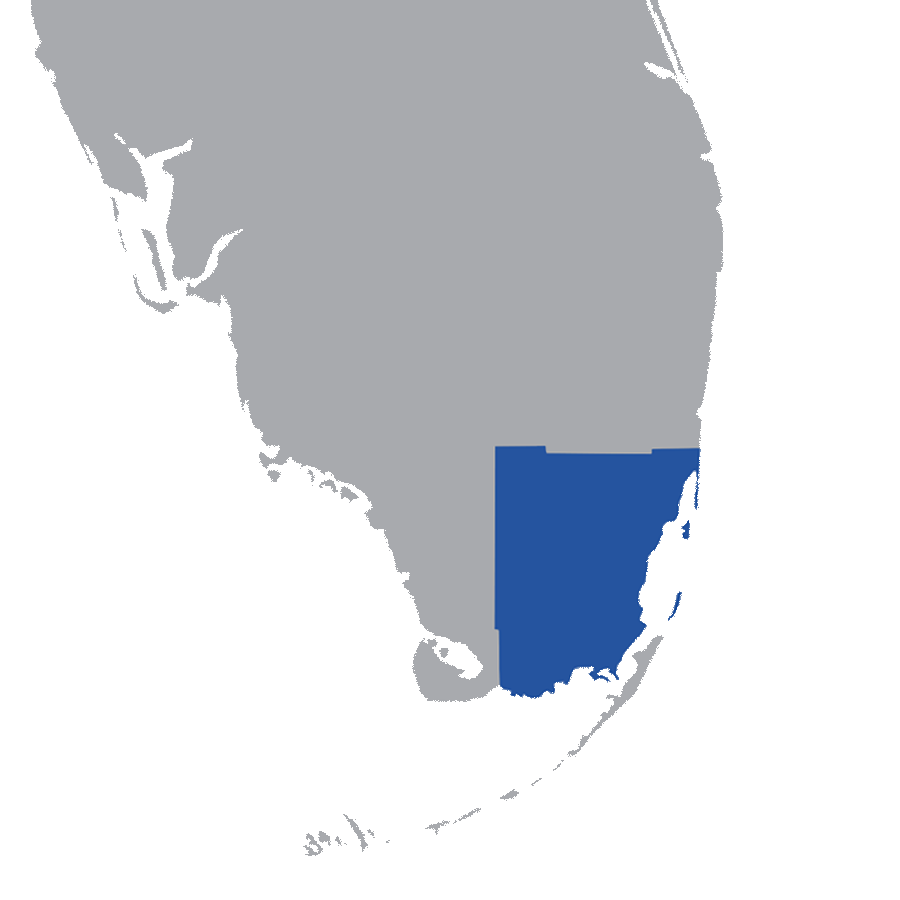 Miami Dade County: Aptly named "The Gateway to the Americas," the Miami metropolitan area is one of the most dynamic in the southern United States.
Its strategic geographical location at the gateway to the Caribbean offers it an international reputation and a decisive place in the country's economy. The city of Miami alone has one of the most important financial districts in the United States, Brickell, which hosts all the capital exchanges with South America, as well as Port Miami, the first cruise port in the world.
The city is also home to internationally renowned universities such as the UM, hundreds of start-ups and a profound urban redevelopment of its downtown with the emergence of new neighborhoods with strong identities.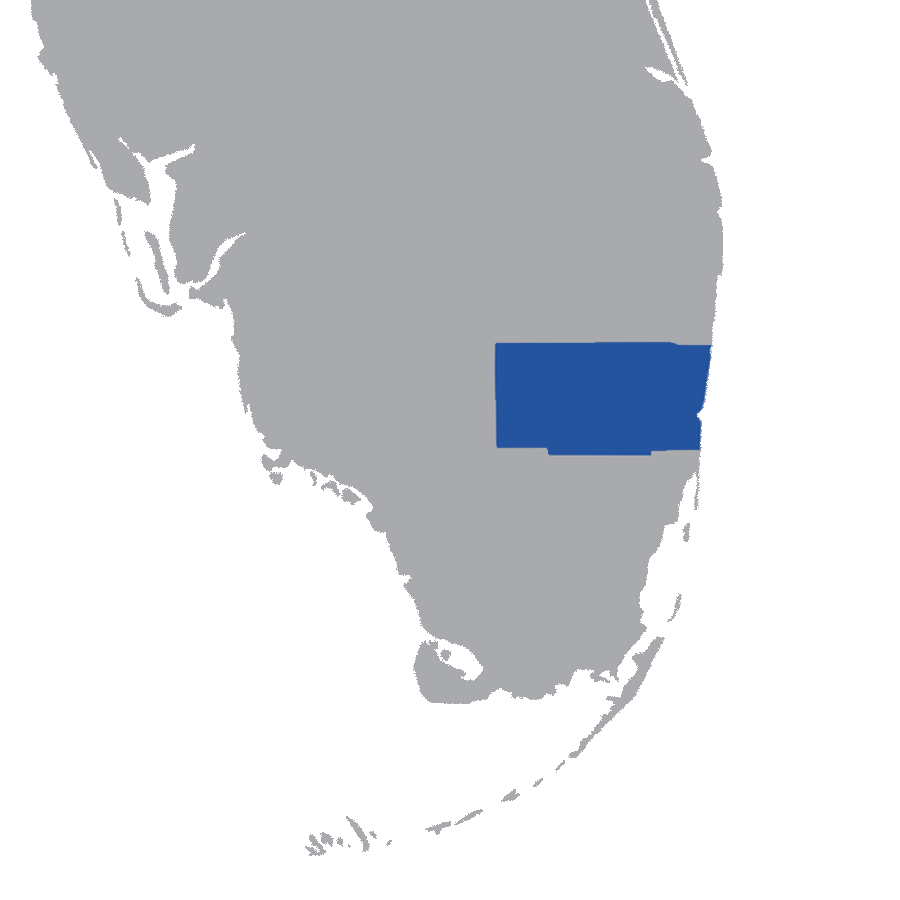 Broward County: a very attractive and booming economic activity, including a huge port and nautical industry.
Nearly 50,000 jobs a year are being created in Fort Lauderdale alone, and dozens of satellite cities are undergoing a profound transformation of their urban landscape. Indeed, dozens of innovative development projects are underway, such as the $1.5 billion Metropica in Sunrise.
Broward County is also Port Everglades, the third largest cruise port in the United States with over 3.5 million passengers per year, a prestigious campus of over 80,000 students and a thriving business tourism industry. Its unprecedented development is reminiscent of that of its neighbor Miami Dade a few years ago.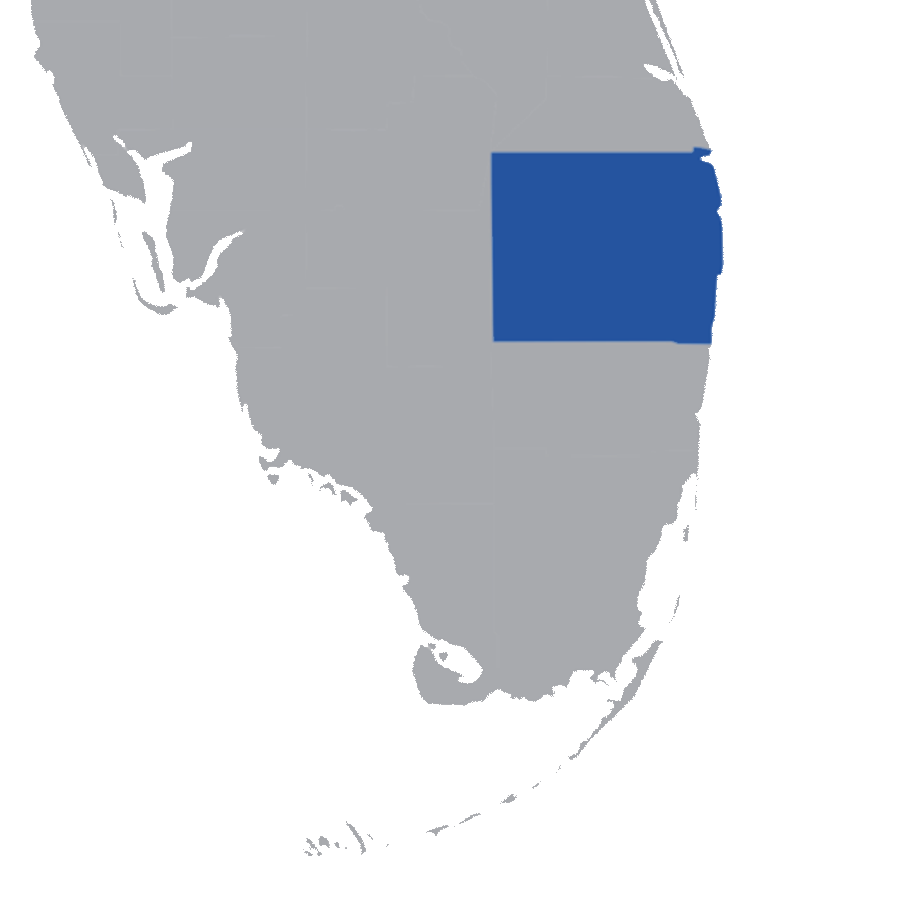 Palm Beach County: A county with a thriving economy that is attracting more and more workers thanks to its dynamic economic sectors, driven by the region's growing population.
Among the region's key industries, tourism attracts nearly 350,000 passengers and 2 million people annually, as well as an agricultural sector that is vital to U.S. consumption with large domestic and international exports. Palm Beach is also the birthplace of IBM's first computer and has a well-established reputation in Internet infrastructure, providing services to Florida and Latin American markets.
An extremely dynamic and successful real estate market́. "Cap rates" in the county are generally high, fueling demand from buyers looking for higher returns on investment.
Stable and rational economic fundamentals that have been established in the region for a long time
The "Middle Market" segment
Far from luxury residences with high charges, the middle and working class market is positioned as a strategic, efficient and secure solution to investors' needs.
Middle market tenants provide the greatest stability for their landlords. By housing people who work, go to school and play in the area's activity centers, you are providing families with the opportunity to grow and prepare for their future. These working families are looking for stability in affordable, comfortable housing that is close to where they work. This is why these tenants tend to stay longer in the units they occupy.
The middle and working classes represent the majority population segment in the United States, and more specifically in Florida. In addition, the attractiveness of the region and its economic dynamism have led to an explosion in population growth. Naturally, this is the segment that offers the greatest demand for rental housing, particularly in terms of affordable housing that is in line with the income of these populations. As a result, the majority of the communities in which we work offer occupancy rates close to 100%. In fact, our managed housing stock is more than 97% occupied each year.
Far from luxury residences with excessive charges, communities accessible to the middle classes offer great services (swimming pool, gym, clubhouse, Jacuzzi, etc.) but with optimized and controlled charges. Indeed, they are adapted to the number of residents in the community in order to offer affordable charges for optimal comfort.
Our rigorous research and analysis of middle-class working-class communities with controlled expenses allows us to offer excellent net ratios to our investors. In addition, real estate prices for this type of property are still significantly undervalued compared to household incomes, offering much more attractive price/rent ratios than in other American states.
In Florida, rents have been increasing on average more than 3% per year since 2012 in this market segment. This increase is even greater in Southeast Florida, due to the economic and demographic acceleration that has been taking place for several years.
Florida's strengths are its economic attractiveness and its strategic financial and commercial position at the gateway to the Caribbean. Thanks to this economic strength, the region's population growth, which is one of the best in the country, is in line with long-term growth. Naturally, the real estate market is following this growth with a steady and progressive increase of 5 to 10% on average per year since 2012. But this appreciation, in the working middle class market segment, is not purely speculative. Indeed, it is deeply correlated to the economic and demographic activity of the region. To put this into context, imagine urban development/ redevelopment projects in the downtown areas of dozens of medium-sized cities every year, with budgets ranging from several tens of millions to several billions of dollars. That's what's happening today in the downtowns of Southeast Florida.
The most rational segment is the one that caters to middle-class tenants who work, send their children to school, get health care and entertainment in the areas where they live. Ultimately, the returns on investment are greater than in more speculative markets.
Market Analyst Florida Invest,
Market Analyst